Ancient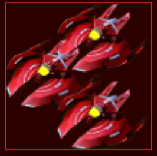 Statistics
| | |
| --- | --- |
| Rarity | Immortal |
| Amount | 3 interceptors |
| Plating | 15 (+1/Level, max 115) |
| Damage | 6 (+0.18/Level, max 24) |
| Speed | 90 (+0.25/Level, max 115) |
| Rate of Fire | 0.33 shots/second |
The Immortal Ancient Interceptor has rather low stats across the board. It does not excel in any particular area, though it also has no glaring weaknesses. Its medium range is just barely shorter than the range of host ships, allowing it to stay in front of its host and protect it while still surviving for a significant period of time. The travel speed of its projectile is also very fast.
Ad blocker interference detected!
Wikia is a free-to-use site that makes money from advertising. We have a modified experience for viewers using ad blockers

Wikia is not accessible if you've made further modifications. Remove the custom ad blocker rule(s) and the page will load as expected.