Lancer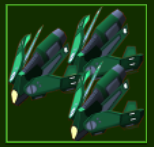 Statistics
| | |
| --- | --- |
| Rarity | Epic |
| Amount | 3 interceptors |
| Plating | 20 (+2/Level, max 160) |
| Damage | 3.6 (+0.12/Level, max 12) |
| Speed | 75 (+0.25/Level, max 92.5) |
| Rate of Fire | 0.33 shots/second |
The Epic Lancer Interceptor is often considered the superior epic interceptor, as its low range ensures that it will draw enemy fire away from your host ships.
Ad blocker interference detected!
Wikia is a free-to-use site that makes money from advertising. We have a modified experience for viewers using ad blockers

Wikia is not accessible if you've made further modifications. Remove the custom ad blocker rule(s) and the page will load as expected.