Titan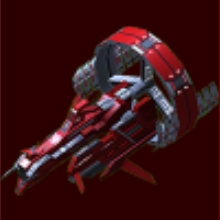 Statistics
| | |
| --- | --- |
| Rarity | Immortal |
| Plating | 550 (+22/Level, max 2750) |
| Dps | 16 (+2.8/Level, max 298) |
| Speed | 80 (+0/Level, max 80) |
| Rate of Fire | 1 shots/second |
| Active | Launches 18 interceptors with 25% plating (+0.25%/Level, max 50%) |
| Passive | Squadron's interceptors' damage increased by 50% (+0.5%/Level, max 100%) |

The Titan is an immortal ship known for its extremely powerful escort passive. It is essentially a glass cannon whose purpose is to deploy dozens of interceptors, but also the lowest plating of the four immortal ships. It is also the only ship in the game with 5 weaponry slots. Due to its passive, the Titan should only be used as an escort at the present time, since it is one of the strongest ship passives available.
Ad blocker interference detected!
Wikia is a free-to-use site that makes money from advertising. We have a modified experience for viewers using ad blockers

Wikia is not accessible if you've made further modifications. Remove the custom ad blocker rule(s) and the page will load as expected.